As money is being bled by General Motors, Chrysler, and Ford in Michigan, will new start-up companies in California emerge as major players in auto manufacturing? Electric and plug-in hybrids are the driving force…along with President Barack Obama and the Federal Government waving $2.4 billion to get the ball rolling. The President spoke in California saying:
"…the Department of Energy is launching a $2 billion competitive grant program under the Recovery Act that will spark the manufacturing of the batteries and parts that run these cars, build or upgrade the factories that will produce them, and in the process, create thousands of jobs right here in America. Show us that your idea or your company is best-suited to meet America's challenges, and we will give you a chance to prove it. And just because I'm here today doesn't exempt all of you from that challenge – every company that wants a shot at these tax dollars has to prove their worth. We are also making a $400 million down-payment on the infrastructure necessary to get these cars on the road; and because these cars won't leave the showroom unless consumers buy them, the Recovery Act includes a new tax credit of $7,500 to encourage Americans to plug one in at home." (Source: U.S. Department of Energy)
So that's the challenge. Four vehicle producers, little known to the general public in the rest of United States, are positioning themselves to be the leaders in the electric vehicle and plug-in race. These California manufacturers are: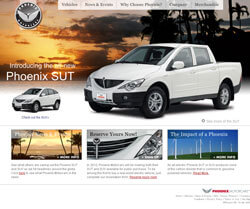 Aptera Motors – Est. 2005, Carlsbad and Vista, California – Producing a vehicle called the Aperta 2e (actually classified as a motorcycle).
Fisker Automotive – Est. 2007, Location: Irvine, California – Producing the Fisker Karma.
Phoenix Motorcars – Est. 2002, Location: Ontario, California – Producing the Phoenix SUT (Sport Utility Truck) and the Phoenix SUV (Sport Utility Vehicle).
Tesla Motors – Est. 2003, Location: San Carlos, California – Producing the Tesla Roadster and Tesla Model S.
Will this new energy efficient electric era spawn an emergence of new automakers like what happened in the late 1800s and early 1900s? With the federal grant money, it is anyone's ballgame. The recent start-up automakers may be small manufacturers, but so were Detroit's Big Three Ford (Est. 1903), GM (Est. 1908), and Chrysler (Est. 1925) when they were formed about 100 years ago.