Two common questions asked by consumers if they would purchase an all-electric car are:
1) What is the cost?
2) How far can it go before it needs recharging?
Let's address the second question. This question is also referred to as "range anxiety" – the fear of running out of power before reaching your destination. Even though the average American driver only drives 29 miles a day (Source: Bureau of Transportation Statistics), the fear is nonetheless there.
Hybrids (Toyota Prius, Honda Insight, and many more) and upcoming plug-in hybrids address the range anxiety issue, but they still are oil dependent. Even the upcoming Chevy Volt (an "Extended-Range Electric Vehicle") has a back up gasoline generator to recharge the batteries after 40 miles. Given that these are still dependent on oil, what can we do to get to an all-electric option?
The key factor is the battery. How far can the car go before recharging and how fast can the battery be recharged? Many consumers want the reassurance when they jump in the car to go to grandma's house three hours away that they will make it there and back. Or if they want to go on a road trip to Yellowstone, would they need a second gasoline powered vehicle?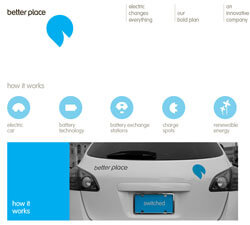 One company, Better Place, that was highlighted in a recent New York Times article titled "Batteries Not Included" is working to address this issue. Better Place is working to create an electric car infrastructure by creating recharging stations, battery swapping stations, and efficient software. To really reduce our large ecological footprint from carbon based energy, the recharging stations should be powered by renewables (e.g., wind and solar).
I really like the battery swapping idea. But it will take the collaboration of car companies to design an efficient standard battery that will fit many vehicles. What a nightmare it would be for battery swapping stations if every vehicle model has a different battery…not to mention the increased cost. If a battery can be standardized, the movement toward all-electrics will happen more rapidly. The main problem is that battery technology is still rapidly changing, so agreement by automakers (and battery producers) may take time.
What do you think? Would you have "range anxiety" with an all-electric car?