According to AutomobileMag.com and AutoBlog.com Tata Motors has received 500,000 pre-orders for its Nano in just 15 days.
Let's do a little price comparison.
Tata Nano ~ $2250
Sears Craftsman Garden Tractor ~ $2700
Samsung HDTV ~ $2200
Apple MacBook Pro ~ $2500
Boetie GM Monogram Canvas Louis Vuitton Bag ~ $2580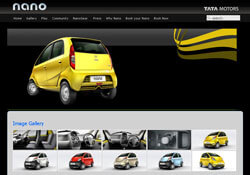 Ok…I don't shop at Louis Vuitton, but I do shop at Sears. Last year I purchased a garden tractor for more than the base price of a Nano. I can see why consumers in India are going crazy over this neat little car.
For more information about the Nano, go to www.TataMotors.com.