Can you drive 1,000 miles on a tank of gas? With my fuel sipping Honda Civic I can go about 450 miles on a full tank (13 gallon). Ford is going to give the 1,000 miles on a tank for a test on its new 2010 Ford Fusion Hybrid using "eco-driving" techniques.
According to CNNMoney.com the driving team consists of a hypermileage champion, a NASCAR driver, and four others tag teaming and driving. They will need to average about 57 miles per gallon (mpg) on an unmodified factory produced car (the Ford Fusion Hybrid has a 17.5 gallon tank…so 1000 miles/17.5 gallons = 57 mpg) to reach 1000 miles. How do they intend to do it? They will use eco-driving techniques.
Ford recommends ten tips to improve mileage:
1. Slow down and watch your speed.
2. Accelerate and brake smoothly.
3. Don't idle the engine.
4. Check your tire pressure.
5. Perform proper maintenance.
6. Don't overload your car with extra weight.
7. Minimize the use of the A/C and heater.
8. Close windows at highway speeds.
9. Use the correct type of oil
10. Plan ahead by consolidating trips.
For a detailed description of the above eco-driving techniques, Click Here.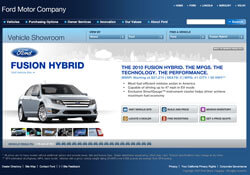 I hope the Ford Fusion Hybrid Team can accomplish this task this weekend. It would surely show those with a heavy foot how driving techniques, not just their model of vehicle, can impact fuel economy. The Ford Fusion Hybrid is rated at an EPA estimated mpg 41 City/36 Highway. If the team can increase the average fuel economy to 57 mpg using driving techniques, that would be quite a feat. I know, I know…you are thinking "Would I be able to increase my real world fuel economy that significantly"…this most likely depends on you and your travel route. But many of the techniques they intend to use could be applied to your real world driving no matter what type of vehicle you drive. And I would bet you would see some increase in fuel economy. There is only one way to find out…start implementing the eco-driving techniques today on Earth Day!
For more information about the 2010 Ford Fusion Hybrid, Click Here.
What do you think? Can eco-driving make that much of a difference? Are you willing to try these driving techniques to save fossil fuels, the environment, and money in your pocket?