This week's blogs on Blog.AutoUpkeep.com have all been focused on gas prices in preparation for the upcoming July 4th holiday, where 32.6 million Americans will get in their cars and travel (according to AAA). Hyundai released information about a new promotion called "Hyundai Assurance Gas Lock". Teaming up with the company Pricelock, Hyundai offers fuel for $1.49 a gallon. Below is the asterisk(*) beside the offer:
* ALL NEW 2009 HYUNDAI'S MODELS (EXCLUDES BASE MODEL ACCENT #15313, GENESIS, GENESIS COUPE AND ENTOURAGE). For one year, you pay $1.49 per gallon of gas. HMA pays difference between actual gas price at pump and $1.49. Gallons limited to 2009: Accent 415, Sonata 4cyl 480,Sonata V6 545, Elantra 430, Santa Fe AWD 635, Santa Fe FWD 600, Azera 3.3L 570, Azera 3.8L 600, Tucson 4cyl 545, Tucson V6 600, Veracruz 670, Elantra Touring 465 – No cash refund for gas not purchased below maximum gallon limit. At participating gas stations. Limitations and conditions apply. Ends 7/31/09.
See all details about how it works, frequently asked questions, and rules at HyundaiUSA.com.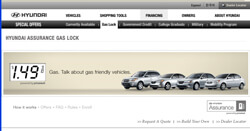 To read CNN's take about this offer, click HERE. Do your research…it may be better to take the cash rebate instead of locking in your fuel price!