GasBuddy.com, the online leader in having a network of volunteers (gas spotters), gives you a way to locate the lowest gas prices as you are traveling in the United States and Canada. For travel across the United States and Canada, GasBuddy's "USA Gas Temperature Map" and "Canada Gas Temperature Map" help you quickly see gas prices around each country. If you want to become a gas spotter in your area you can earn points and win prizes.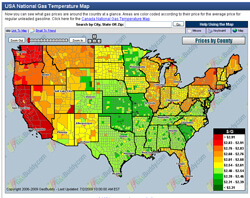 To make submissions easy, GasBuddy.com allows submissions via the web or cell phone internet browser. You can receive gas prices via text message or email. Have an iPhone? The GasBuddy.com iPhone application (currently $2.99) by "Bottle Rocket Applications" allows you to find cheap gas prices on the go, view gas station information, report prices as a gas spotter, and earn "points" to win prizes.
To further help motorists, GasBuddy.com lists ten fuel/gas saving tips:
1. Avoid High Speeds
2. Do Not Accelerate or Brake Hard
3. Keep Tires Properly Inflated
4. Use A/C Sparingly
5. Keep Windows Closed
6. Service Vehicle Regularly
7. Use Cruise Control
8. Avoid Heavy Loads
9. Avoid Long Idles
10. Purchase a Fuel Efficient Vehicle
For more detailed information, click HERE.