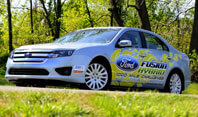 Ford proved that eco-driving techniques can make a significant difference in fuel economy. In my blog on April 22nd titled "Eco-driving and fuel economy – a test for the driver" I highlighted the ten eco-driving techniques that Ford advocates increases mileage. Their goal was to drive 1000 miles in an unmodified Ford Fusion Hybrid. They reached an astonishing 1445.7 miles. The Ford Press Release stated that the Ford Fusion Hybrid averaged 81.5 mpg. (I calculated 82.6 mpg…1445.7 miles/17.5 gallon tank = 82.6 mpg …but maybe they squeezed a little fuel up the filler neck before they started or the fuel lines were run completely dry).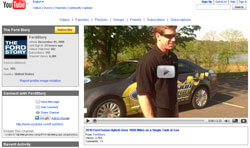 To watch the Ford Fusion pass the 1,000 mile mark, go to Ford's YouTube Channel "The Ford Story".
Even though driving for 69 hours to achieve 1445.7 miles means they averaged only about 21 mph (1445.7 miles/69 hours = 20.95 mph), this is still an amazing feat. I am motivated to see how eco-driving (also know as hypermiling) techniques could increase my Honda Civic's mpg!