On Monday April 27th, GM's press release "GM Accelerates its Reinvention as a Leaner, More Viable Company" generated tons of posts on Twitter. The key question is, "Will this actually make GM viable?"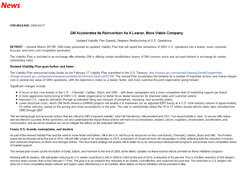 An overview of the changes:
GM focuses on Buick, Cadillac, Chevrolet, and GMC – Personally, I don't quite understand why GMC is saved. Why not streamline GMC pickups, crossovers, vans, and SUV models into the Chevy brand? I think that it is a good move to phase out the Pontiac line. Even though as a teenager I loved my 1979 Pontiac Firebird and my wife loved her 1985 Pontiac Fiero. It is time to make all Pontiacs classics.
Restructuring the number of dealerships by reducing the number by 42% – This may be a great cost saving approach, but as a consumer I begin to worry. I own a Honda Civic and a GMC pickup. I like the idea of having a neighborhood GM dealership. In comparison, in rural areas not having a Honda dealership close is a negative thing for me. I guess it is a bottom line $ saving thing. I hope it works and doesn't turn off customers. I believe some customers buy from local dealerships just because they are local. And this "local" decision may make them choose a specific manufacturer due to default. If they don't have a local choice, they may be inclined to look at other manufacturers – further loosing GM's market share.
Supply vs. Demand – Too many cars are sitting at dealerships. With the total annual US car sales predicted to be about 10 million units this year, this only makes sense. I learned back in high school economics the effects of supply and demand.
Reducing Costs – Unfortunately during this recession, more people at GM and their suppliers are going to lose their jobs. Some communities are going to be hit extremely hard, especially those where plants are going to close. The reality is…GM has to become more efficient and streamlined to compete in today's global economy.
What do you think? Will GM survive? Will their viability plan work?