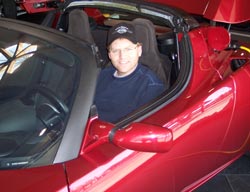 On Saturday April 25th, 2009 I attended the California Automotive Teachers Conference at Universal Technical Institute (UTI) in Sacramento. After the conference I visited a friend in Santa Clara for a few days. I was excited to see him and his family. On Sunday before taking his children to a park for a birthday party (we saw Barney!), we made the short drive to the Tesla Store in Menlo Park where they produce about 25 Tesla Roadsters a week. I was pleasantly surprised to see several people in the showroom on a beautiful California day during our economic recession.
As I walked into the sales floor I saw several Tesla Roadsters on display just begging to be sat in. Adults and children were both excited about taking their turn to sit in the driver's seat.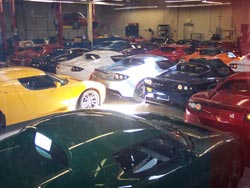 On one side of the showroom there was a large window that overlooked into the shop. The shop had 30 or so Tesla Roadsters being detailed and finished. Was I seeing the rebirth of the electric car movement that was killed about 10 years ago? (Remember the film, "Who Killed the Electric Car?")
I asked the salesperson (also known as a client advisor) what the lead time was if a customer ordered a Tesla Roadster today. "November" he said. "All those in the shop are already taken." Amazing. In an economic crisis like we haven't seen since the Great Depression, a $100,000+ Tesla Roadster has a waiting list. And the idea of the Tesla Model S (ready in late 2011), a $50,000 sedan, being a practical electric family car (seats up to seven) gets me excited about where the automotive industry may be headed.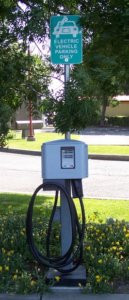 As I drove back to the Sacramento County Airport to catch my flight home to Missouri I saw an exit for an "Electric Vehicle Charging Station". Out of curiosity I wondered if Tesla had a plug here. As I exited I-80 to the city of Dixon, I followed the signs to the station. What a wonderful place to put a charging station – right off the interstate. From the entrance to the parking lot I could see a variety of restaurants – IHOP, Subway, Arbys, McDonalds, Baskin Robbins, Starbucks Coffee, Taco Bell, Quiznos, Denny's, Burger King – along with many other places to shop and dine within a short walk. While the cars are recharging the drivers and passengers can get a bite to eat or do some shopping. The charging station did have a Tesla (208-240 Volt 72 Amp) plug! According to the Tesla folks, to get a full charge on a completely drained battery it would take about 3 ½ hours at 72 Amps. Even though there are just a few Teslas on the road today, I think how in a couple of years this parking lot might be filled with electric cars recharging. When will electric charging stations outnumber convenience store gas pumps at this Dixon, California exit? 20 years? 30 years? Or will we see this transition sooner? Will electric car companies standardize this plug? As a Midwest resident, I hope to see how the system in California can create a model for an infrastructure across the Dwight D. Eisenhower Interstate System. Will I see a charging station off I-44 in Springfield, Missouri someday? I hope so.
What do you think? How long will it take for the electric car to be the first choice for an average car buyer?