After yesterday's post regarding "eco-driving" tips, I thought I should keep the theme going with "earth friendly" advice. I was driving today behind a 1990s era pickup that was burning and dripping oil. Since the smell was so bad, I wanted to get around it. At the next stop light I pulled alongside him and saw the oil dripping and smoking. It must have been leaking and hitting the exhaust, causing the burning smell.
If you have a vehicle like this, one that you have to add oil way too often, then you need to get the engine fixed or retire the vehicle. Ideally, you shouldn't have to add oil between oil changes. Older vehicles, especially ones with oil leaks, pose a dramatic toll on our environment. According to the Massachusetts Department of the Environment "one quart of motor oil can pollute 250,000 gallons of water" and "Americans spill 180 million gallons of used oil each year into the nation's waters" (See Source). Remember the Exxon Valdez oil spill? This annual spillage caused by all of us is sixteen times greater than the Exxon Valdez oil spill. And you know what? We can all help stop this annual massive oil spill by being better consumers and users of our cars and small engines.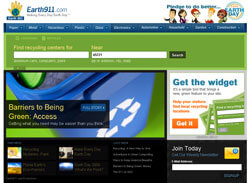 Recycle your used motor oil and get those leaks fixed! Go to Earth911.com to find a recycling center near you. Most auto parts stores (e.g., O'Reilly, Autozone, Pep Boys, etc.) and service centers (e.g., Firestone Complete Auto Care, Goodyear Auto Service Center, Wal-mart Tire and Lube Express, etc.) accept used oil. To learn more about the benefits of recycling used oil, go to RecycleOil.org. The RecycleOil website is run by the American Petroleum Institute.
Does your engine leak or burn oil? Do you change your own oil at home? If so, do you recycle it?