Education News…
Sometimes you just need an easy way to collaboratively share ideas with students, work colleagues, or family members. Why not use a "Wiki"? A wiki allows all users to have the editing power on your website using a simple WYSIWYG (What You See Is What You Get) editor. If you know how to use Microsoft Word, you can create a website. There are probably tons of free wiki sites out there…but the two I like are Google Sites and Wikispaces.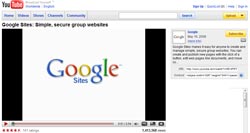 Watch a video on how to use and set up a Google Site.
I developed a presentation titled, "You Know Cars, They Know YouTube" to highlight how automotive teachers can incorporate wikis, YouTube, Twitter, Facebook, and blogs into the classroom…keeping the interest of the Millennial Generation. I am giving this presentation to auto teachers across the country. As social media and technology changes, instructional methods also need to change.