How do you determine if your serpentine belt needs replacing. Looking for cracks in neoprene serpentine belts was a tried and true method to determine replacement. Neoprene serpentine belts commonly last 50,000 to 60,000 miles. However today, there is a new belt technology: Ethylene Propylene Diene M-class rubber (EPDM). EPDM belts can last 100,000 miles (see Gates Corporation Tech Tip: Neoprene vs. EPDM Construction). EPDM belts require more investigation to determine wear.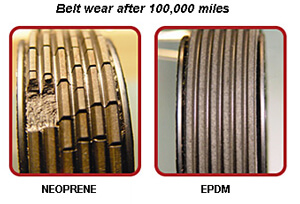 So how do you determine belt wear? According to Gates Corporation (see Gates Corporation Tech Tip: Belt Inspection Changes) you need to consider everything from vehicle mileage, to belt and tensioner performance, to system component operation. Problems that can be caused by belt slippage include: decreased efficiency in engine cooling, poor power steering operation, decreased alternator charging capability, increased heat in component bearings, accelerated pulley wear, decreased belt life, and inefficient air conditioning operation…not to mention the possibility of a check engine light illuminating. Gates Corporation recommends checking EPDM belt wear at 50,000 miles using a precision diameter tool. For more details on how to inspect EPDM belts, go to GatesPrograms.com/beltwear.
In addition to inspecting the belt, pulley alignment and proper tension must be checked. According to Gates, the following must occur for a belt to work correctly:
1. Pulleys in good operating order—free and clear of dirt, grease and grime or wear.
2. Proper alignment—any misalignment must be repaired before installation of the new belt.
3. Proper tension—if the belt does not have proper tension, it will begin to slip, causing heat which will result in premature failure and noise. See the Gates Corporation Tech Tip: Pulley Alignment Tension
Did you know that the average belt tensioner will adjust belt tension over 1 billion times for every 100,000 miles a vehicle is driven? To learn more about the role of the belt tensioner and how to inspect it, check out the Gates Tech Tip: Belt Tensioner's Crucial Role.
Proper and periodic belt inspection will prevent acute (getting stranded on the side of the road) belt failure.
When was the last time your serpentine belt, belt alignment, and tensioner were inspected?