This year's NACAT (North American Council of Automotive Teachers) Conference is being held in Tyler, Texas and is hosted by Tyler Junior College.
Auto Upkeep 3rd Edition (c) 2013 Debut!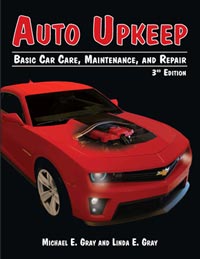 Auto Upkeep 3rd Edition will debut at the NACAT conference tomorrow, Wednesday July 18th – 2012! We are pleased to announce that this edition is in FULL Color and has been updated. Proud to have over 500 secondary and post-secondary schools already using previous editions…we are optimistic that this edition is sure to WOW!
QR Codes Link to Dedicated Resource Site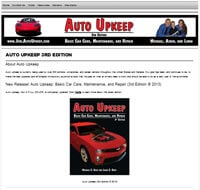 Unique to this edition are QR (Quick Reference) Codes at the beginning of each chapter. With a smartphone app, you can quickly scan the code and will be directed to handy resources at our dedicated accompanying site – 3rd.AutoUpkeep.com.
Multiple Formats – Hardcover, Paperback, and eBook
We have always worked to meet the needs of teachers, students, and consumers. In an effort to meet all budgets and preferred learning methods, Auto Upkeep 3rd Edition textbook is available in hardcover, paperback, and eBook. The workbook is available in paperback or eBook. Access on your Kindle, iPad, tablet, laptop, smartphone, or desktop computer, the eBook is for those that want to go paperless and learn in a more interactive way. Currently available at Chegg.com, Auto Upkeep 3rd Editon using the Chegg eTextbook Reader has hundreds of clickable weblinks and is easily navigated using bookmarks in the table of contents and index. (Note: The Auto Upkeep eBooks just went live and cover images are still being updated – look for "Edition 3" next to the "eTextbook" option in the "Auto Upkeep" search.) Check out how the Chegg eTextbook Reader works:
Free Review Copies to Auto Instructors and Administrators
To ensure that all automotive teachers have an opportunity to review Auto Upkeep, we have packaged up 500 sets to give away at the NACAT Trade Show and during seminars (Presentation Titles: Blogging Your Automotive Program and Developing a First Course in the New NATEF Model). Be sure to stop by our booth, attend one of the seminars, pick up a free copy, and meet all three of us – Mike, Linda, and Aiden!