Snow and ice are just around the corner. Whether you like it or not, winter weather will be here before you know it. How can you get better traction in the snow and ice? The folks at McGee Company has a solution for you. Instead of putting heavy and cumbersome chains on your tires, just put on the easy to install AutoSock.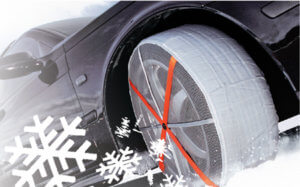 The AutoSock
The AutoSock is a textile cover that is installed over tires when snow and ice are encountered. It increases traction and installation is a breeze. This alternative traction device even works on vehicles with very little space around the wheel well.
Environmental Impacts
Since the AutoSock is soft, it does not damage road surfaces. And unlike chains, it emits virtually no noise when driving. Another significant benefit is that the AutoSock weighs significantly less than chains, resulting in lower fuel consumption and less carbon dioxide emissions. If you do ever wear them out, they are also recyclable.
How to Use the AutoSock
Before purchasing the AutoSock, you will need to know your tire size. Tire dimensions are on the sidewall of the tire. An example tire size is P205/55R16.
When using the AutoSock, don't put the "pedal to the metal". Use a light foot so the tire doesn't spin and avoid using excessive speeds.
Once you get out of the snow or ice, remove the AutoSock to increase its longevity.
Before parking your vehicle at night, remove the AutoSock so it doesn't freeze.