Today Ford held a live chat with Sherif Marakby, Ford Global Hybrid Chief Engineer regarding their intelligent vehicle-to-grid communications and control system. In addition to discussing this new system, Marakby answered questions about Ford's plans for hybrids and plug-in electrics. To read the full chat transcript, go to TheFordStory.com. To learn more about this technology, click HERE.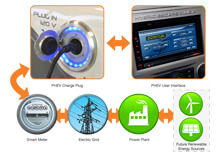 Here are the questions I posted and Marakby's/Ford's responses:
Mike Gray: On August 11th, GM announced that their Chevrolet Volt is projected to achieve 230 mpg…does Ford have any mpg projections (or equivalent rating measures) for their upcoming plug-in electrics and plug-in hybrid electric vehicles?
Sherif Marakby: The current EPA Fuel economy tools do not well represent Plugin or Battery Electric fuel economy. Our Plugin hybrid technology will achieve great reduction in fuel consumption, and we expect a substantial improvement over current gasoline and full hybird fuel economy.

Mike Gray: With an increase in electrics and plug-in electric vehicles in the next few years, how will utilities provide tax dollars for road improvements and upkeep? Will there be a "Road Tax" on electricity?
Ford Motor Company: Mike, that's more of a policy question. Sherif's expertise is in engineering. Overall, we'll be working with utilities and the government for a comprehensive solution for the industry.

Mike Gray: Aftermarket companies have been converting Prius's for years into plug-in hybrids. Why is it taking so long for the automakers to mass produce one?
Sherif Marakby: We want to ensure we complete the validation of the batteries and systems with full durability, safety, and performance attributes. We are excited about introducing this technology, but want to make sure we provide no compromise solutions to our customers.
In addition, as Bill Ford likes to say, "the hardware is no problem. We need to ensure we've got the solution for the infrastructure and power supply before we can move forward." It's about partnerships and collectively moving the industry ahead.

Mike Gray: I guess my underlining question in regards to "Road Tax"…is the intelligent vehicle-to-grid communications and control system a first step to help the utilities determine if you have your car plugged in verses your blender?
Sherif Marakby: The Intelligent V2G control system will definitely enable the utility to recognize and react to the loads in the home. We believe there is great potential using this system to level the load on the grid.
As you can tell from my questioning, I was specifically trying to figure out how hybrids and electric vehicles will end up paying for their share of highway maintenance. I am sure as more and more hybrids and electric vehicles are placed on the road, federal and state governments will address this issue. An intelligent communications system between the vehicle and the electric grid may be the next first step.
What do you think? How will hybrids and electrics be taxed like the "road tax" on gasoline?