If you need roadside assistance you no longer need to wait on hold. AAA, America's leader in Emergency Roadside Service with 51 million members, has a new way for you to contact them for roadside service using the AAA Roadside iPhone App. If you need assistance, the application, among many other things, uses the iPhone's built in location functions to send your location information to AAA, stores your AAA membership info, and sends a confirmation acknowledging your request. In addition, you can use the app to find AAA Approved Auto Repair facilities.
To learn more about the AAA Roadside application, click on the link below.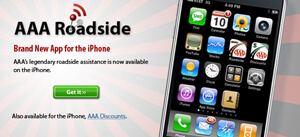 I just put the app on my iPhone and updated my profile (AAA Member Number and Vehicle Info). It took just a few minutes. Do this now when you are at home and not stuck in your car!