You don't negotiate a price for a book. You don't negotiate a price for a digital camera. You don't negotiate a price for a big screen TV. Many of us go online and search for the best price or expect the local retailer to "be in the ballpark" with the listed price. We may search online and then go to a local store to make sure we are getting a fair deal. Why is it expected that you negotiate a price for a car?
With the internet, price seclusion is no longer accepted by most buyers. Why should we have to physically go to the dealership to get a price on a specific make and model of vehicle, especially if we know what options we want on it? Zag.com is committed to upfront pricing – and require it for all the dealers in their network. This article is a great read for the justification of upfront car pricing.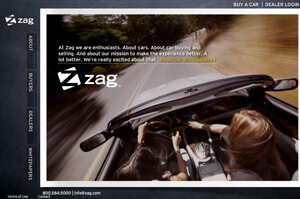 Here are a couple of quotes from the article:
*…serving the local community is no longer a sufficient differentiator or sole competitive advantage because consumers go online first.
* An upfront, transparent price is an informed, fair price given in real time. The consumer doesn't have to provide personal information or wait for an email response from a dealer prior to expressing interest. While online, the buyer can remain anonymous until he or she is ready, and that places the buyer in control.
* This is the crux of the informational advantage consumers seek online: not only do they want pricing, but they want to get that price in the same way they'd get the price of a book on Amazon.com: immediately and anonymously. What's more, they need to know the price they get is a good one. That explains why online shoppers typically cross reference pricing data with three other sources: to confirm the fairness of the price, and to move forward in the process knowing they are informed enough. See the full article HERE.
Zag.com works with affinity groups (groups with similar interests for their members). For example, AAA (51 million members strong) has partnered up with Zag to help car buyers price out their next car through their AAA Automaker site. Overstock.com, Capital One, American Express, and USAA (United Services Automobile Association) also use Zag.
While I truly believe most people like to buy local when possible (small bookstores, local car dealerships, the independently owned electronics store), we also don't want to pay significantly more for the convenience of walking in. The internet has set the stage for pricing…and we expect competitive retailers' prices to be fairly similar. They are selling the same product, why not a similar price.
What I like about Zag.com, specifically their "Drive Your Dream" search, is that you can look for a specific make and model (style) and it lists the invoice price, MSRP (Manufacturer's Suggested Retail Price), Target Price (what you should expect to pay), and current incentives. You can also read reviews, research the car's specifications, compare your selected vehicle to other vehicles, and get a TrueCar Price Report (see below)…all while sitting at your computer or lounging around with your smartphone.