According to CNNMoney.com gas prices have risen 10% over the last two weeks. Yesterday, the Energy Information Administration reported that the average price of gasoline in the US was $2.24 a gallon. The key question is, "How high will gas prices rise this summer?"
Typically demand increases as the Memorial Day holiday nears. This is generally recognized as the start of the summer driving frenzy. Schools are out, beaches are open, RVs are traveling, and boaters are headed to the lake for skiing and fishing. Basic economics indicates as demand increases, supply decreases – which increases prices.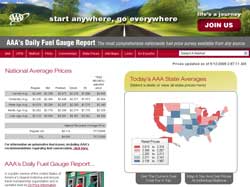 Will we see $4.00 a gallon again this summer? Time will tell.
To find fuel prices near you, you can use the following websites:
AAAFuelGaugeReport.com
GasBuddy.com
GasPrices.MapQuest.com
Energy Information Administration, Department of Energy
What do you think? Will gas prices continue to rise? How high will gas prices have to go before you change your driving habits?