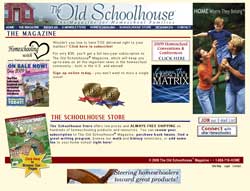 We are pleased to report that one of the nation's leading homeschool magazines, The Old Schoolhouse Magazine, reviewed our Auto Upkeep Homeschool Curriculum Kit on their website – TheHomeschoolMagazine.com.
Below is a short excerpt from the review by Amy Christy:
When I first thought about this course, I envisioned this being more of a "father son" project, but I ended up being the one who participated in these labs. They were great! I am not a "technical" person at all and that's just the point. This course is for everyone. In fact, I think it was created with people like me in mind especially. The text is so easy to follow and learn from, that a person who feels quite out of their element in a mechanical situation can now be more at ease!
You can read the full review HERE.
Auto Upkeep Homeschool Curriculum Kits are offered in paperback or hardcover text bindings. To help homeschool co-ops, co-op packages have been assembled for additional savings. Auto Upkeep Homeschool Curriculum Kits and co-op packages can be purchased at AutoUpkeep.com/Kit.