According to a recent Consumer Reports survey, more people are satisfied with independent repair facilities than with dealerships – although both scored relatively high on maintenance procedures.
When searching for a quality repair facility you basically have three choices:
Independents (locally owned and operated shops)
Chains (e.g., AAMCO Transmissions, Car-X, Jiffy Lube, Firestone, Meineke Car Care Center, Midas)
Dealerships (e.g., Toyota, GMC, Ford, Lincoln, Mercury, Nissan, Mazda, Volkswagen, Lexus, Chevrolet, Honda, Chrysler, Dodge, Jeep, Buick)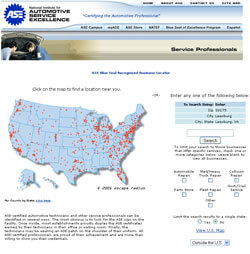 You can use online tools to search for quality repair facilities with ASE (Automotive Service Excellence) certified technicians. The National Institute for Automotive Service Excellence has an online tool to help you search for shops that are "Blue Seal" certified. To become a Blue Seal Shop at least 75% of the technicians must be ASE certified. See all the criteria HERE. You can use an online locator to find a shop near you.
Another method to find a quality repair facility is to use AAA's Approved Auto Repair network. To review AAA's stringent guidelines, click HERE. AAA also has an online search tool to find a repair facility near you.
The Motorist Assurance Program has a handy brochure on "How to Pick an Auto Repair Shop".
The key is to find a local repair facility and build a rapport with the service writers and technicians.
What do you think? What type of repair facility do you use?