One day has passed since America's 3rd largest automaker, Chrysler filed for Chapter 11 bankruptcy protection. Lawmakers have been working for months to nail down a bill that would help stimulate auto sales.
Timeline:
January 14, 2009 – "Accelerated Retirement of Inefficient Vehicles Act of 2009" – S. 247
Here is a summary of Feinstein's, Collins', and Schumer's legislation in January:
A measure introduced today by U.S. Senators Dianne Feinstein (D-Calif.), Susan Collins (R-Maine), and Charles Schumer (D-N.Y.) would establish a national voucher program to enable and encourage drivers to voluntarily trade in their older, less fuel efficient car, truck or SUV for a more fuel efficient vehicle. Specifically, the so-called "Cash for Clunkers" program would reimburse drivers with a credit of $2,500 to $4,500 for drivers who turn in fuel-inefficient vehicles to be scrapped, and purchase a more fuel efficient vehicle. The traded-in vehicles must have a fuel economy of no more than 18 miles per gallon, be in drivable condition, and have been registered for at least the past 120 days. Vouchers could also be redeemed for transit fares for participating local public transportation agencies. The program would operate for four years, from 2009 – 2012, and is expected to encourage the early retirement of up to one million vehicles per year.
In the House of Representatives, a companion bill was proposed by U.S. Representatives Steve Israel and Jay Inslee – H.R. 520:
The Israel-Inslee bill, the Accelerated Retirement of Inefficient Vehicles Act (ARIVA) of 2009 (H.R.520), establishes a federal incentive for the voluntary retirement of fuel-inefficient vehicles from the current pool of about 235 million cars and light trucks registered to private and commercial owners in the United States. It is intended to operate for four years, 2009-2012, and to incentivize the early retirement of up to one million vehicles per year. The legislation provides consumers with vouchers valued between $2000 and $4,500 which can be used towards the purchase of a newer, more fuel efficient vehicle or toward public transit fare.
In March U.S. Representative Betty Sutton introduced her version of the bill – H.R. 1550.
Here is a summary of Sutton's legislation:
Rep. Sutton's Consumer Assistance to Recycle and Save (CARS) Act gives consumer purchase incentives for turning in vehicles that are 8 years or older to buy more fuel-efficient vehicles or to obtain a transit voucher. In the legislation, new car purchases that qualify for this incentive must achieve a minimum of 27 miles per gallon on highways, while new trucks must achieve a minimum of 24 mpg for highway driving. The bill provides graduated incentives based on greater fuel efficiency.
This legislation was followed on March 19th by the "New Automobile Voucher Act of 2009" by Representative Donald Manzullo – H.R. 1606.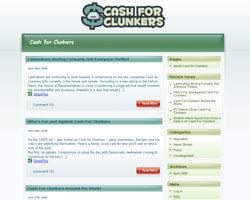 But now it seems like "Cash for Clunkers" legislation may be getting revived and getting steam. The Detroit News and Congressional Quarterly reported this week that a deal is getting closer. Questions still exist. What will happen to all those used cars on car lots that are 8 years old and older? Will they essentially lose their value overnight? Will they only be worth the "clunker" price? To get the latest information about the Cash for Clunkers program, go to www.CashForClunkers.org.
What do you think? Will the Chrysler Bankruptcy help this bill turn into law?