The Chevrolet Volt…no. The Toyota Prius PHEV…no. The Honda Civic…no. The Ford Escape…no. According to Fisker Automotive, a green American premium sports car company, they will be the first to have a production PHEV (Plug-In Hybrid Electric Vehicle) – the Karma.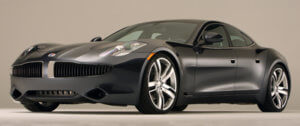 Here are some specifications:
* Plug-in hybrid technology Q DRIVE
* 0-60 in less than 6 seconds (0-100 km/h 6 seconds)
* Top speed 125 mph (200 km/h)
* Two Driving Modes: The driver will be able to select between two modes of driving. The first mode is Stealth Drive, which is the quiet economy mode for optimal relaxed and efficient driving. By flipping the second paddle behind the steering wheel, the car will switch to Sport Drive, which will access the full power of the vehicle.
* Regenerative brakes featured to recapture braking energy
* Low center of gravity provides optimal sport vehicle driving dynamics
According to Fisker, fueling the Karma could cost just $0.03 per mile. They concede that a real-world annual average would be closer to $0.07 per mile based on a mix of Sport (gasoline) and Stealth mode use…still pretty good. One downfall, the price – $87,900.
To learn more about the Karma, go to FiskerAutomotive.com.