Jay Leno's new show, The Jay Leno Show, will feature a segment called the "Green Car Challenge". It is not surprising that the prime time show, which premieres on Monday September 14th at 9 pm central time, will have a regular segment about cars.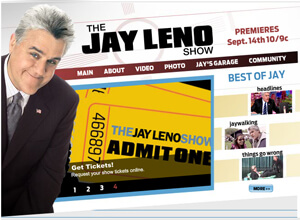 Jay Leno is an avid car guy that collects everything from Stanley Steamers to new alternative fueled vehicles (check out Jay Leno's Garage). According to Edmunds.com, the "Green Car Challenge" will take place on a track next to where the show is filmed. Ford Motor Company, the only big three automaker that didn't take government bailout money and managed to stay out of bankruptcy, is working with Jay. Ford put together an all-new battery electric Ford Focus for celebrities to drive.
Here is a quote from Ford:
"Having our Focus battery electric vehicle on the show is a great way to demonstrate how fun to drive these cars really can be," said Lisa Drake, chief engineer, Ford Hybrid and Battery Electric Vehicle Programs. "Beyond the immediate excitement of driving, it demonstrates that Ford is investing in this technology and that we're committed to electric vehicles."
To learn more about the Focus, go to TheFordStory.com.