Written by a Guest Blogger
The Skoda marque is one that is gaining popularity in Europe and other parts of the world. It's a Czech car maker owned by the Volkswagen Group since 1990. The buyout was part of the Czech Republic's fall in communism and the privatisation of many industries.
Ever since it became a part of the VW family, Skoda has come up with a plethora of award-winning models that see people flocking to the brand. Examples of best-selling models include the Fabia hatchback and the Octavia line of saloon and estate cars.
Of course, one of the notable things about Volkswagen is its continued passion for innovation. Because Skoda is part of the VW family, it's a characteristic that has rubbed off on the Czech firm.
As we all know, car makers develop a plethora of concept cars in their time. They do so to "test the water" as it were. They want to find out which innovations are the ones that will get welcomed by the motoring public, and which ones get doomed to failure.
One of the concept cars that Skoda worked on is the "VisionC." It's an odd name for a concept car, don't you think? Still, what's in a name? As a car maker, you want people to feel inspired and excited by the car, not the name!
What is the Skoda VisionC concept?
In a nutshell, the Skoda VisionC is a concept coupe. At first glance, it looks like the love child of an Audi A5 and a Skoda Rapid. But all jokes aside, one thing's for certain. The Skoda VisionC concept car has smooth, sculpted contours that are set to grab anyone's attention on the street.
You're not likely to find a car that's even remotely like it on car sales websites like easternwestern.co.uk. Nor will you see anything like it on motoring sites and blogs. It is a unique, one of a kind vehicle.
According to Skoda, the VisionC concept is a coupe that "has a self-assured and dynamic look." Part of the design brief was to create a car that had invisible door handles, a feature that can sometimes look weird on cars. Except that, on the VisionC, it only enhances its looks.
They also wanted to sculpt a car that was expressive, dynamic and eco-friendly. Having read the full details of the Skoda VisionC, it seems the engineers at the Czech car maker have ticked all those boxes!
What's so eco-friendly about the Skoda VisionC?
The Skoda VisionC is eco-friendly. Why? Because it offers what the firm boasts as "outstanding" emissions values. It uses CNG (compressed natural gas) as its main source of fuel.
Skoda says that the VisionC natural gas-powered car only uses 5.1 cubic metres of gas per 100 kilometres (or 62 miles). In emissions terms, that translates to a CO2 output of around 91 g/km. You might be wondering what the big deal is of a car with such low CO2 emissions. After all, there are plenty of cars on the road today that boast such figures, right?
What Skoda want to do is show the motoring public – you and I – that it's possible to buy a mid-sized eco-friendly vehicle. You'd usually associate low CO2 emissions with small city cars because of their low weight.
Under the bonnet is a bi-fuel 1.4-litre TSI engine. It's a turbocharged engine that also uses petrol. We all know the benefits of using LPG (liquefied petroleum gas) in vehicles. But Skoda decided to go for something different. As mentioned, the engine uses compressed natural gas too.
One might think the 1.4-litre TSI engine is rather small and frugal. But nothing could be further from the truth! Skoda says that the VW-derived engine offers 109 brake horsepower and can achieve a top speed of 133 miles an hour.
What's the interior like in the Skoda VisionC concept?
Deceptive is perhaps the best word I could think of when describing the interior! Why is that, you might be wondering. Well, when you look at the car's exterior it displays the characteristics of a coupe.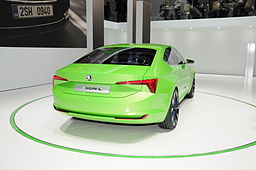 Because of that fact, one could naturally assume the interior is rather cramped and maybe even uninspiring. But when you sit inside the Skoda VisionC concept car, you're in for a real surprise!
The interior of the car is rather spacious. The dashboard layout is sleek, has clean lines, and the controls are laid out in a simple to use arrangement. Presentation was high up on Skoda's to-do list when developing the VisionC concept car.
It offers an infotainment system that has an attention-grabbing 3D display. The touch-screen multimedia display projects up from the dashboard and is quite futuristic indeed.
The rear passengers are also treated to the next-generation multimedia system also. They have foldaway screens. And the centre armrest also has a display that shows vehicle statistics.
On the backrests, there are air vents integrated into them. And, when you need to do so, you can have the headrests flipped up.
Has Skoda used any existing designs into the VisionC's styling?
As you know, the Skoda VisionC is a five-door coupe. The design language used on the car got based on the new design line that the firm adopted for its model three years ago. Skoda wants to make more of a push into the premium car market.
The engineers behind the VisionC concept have used a combination of contours and surfaces. They did so to come up with this innovative design. They also incorporated those styles with crisp, defined shapes. Doing so helped them to give the car a unique take on the existing Skoda design language.
Other recent concept cars have used similar styling. So it's likely Skoda are considering adopting them for future models. On their website, read where they talk about the VisionC's interior. They said it gave "a glimpse of Skoda interior design of the future."
Take from that what you will, but I'd be willing to bet that Skoda's future vehicles look similar to the VisionC concept!