The last few years have presented many challenges that have impacted supply and demand of vehicles. Pre-2020, consumers had lots of negotiating power when purchasing a new vehicle. Dealership lots were full of cars and salespeople were eager to make a deal. You could purchase almost any vehicle for less than MSRP (Manufacturer's Suggested Retail Price) and often significantly less. Today, some dealers are pricing high-demand vehicles $20,000+ over MSRP.
Automakers are Transitioning
Inventories are low and your choices are limited. The key question you need to ask yourself is, "Do I really need to purchase a vehicle this month or even this year? Can I drive my current vehicle for another year or two?" If you can wait, then you may have more choices in the future. Most automotive manufacturers are transitioning from internal combustion engine (ICE) vehicles to electric vehicles (EVs). This transition is impacting manufacturing plants and the raw materials needed to produce new vehicles.  
What is a Window Sticker?
Every new vehicle is issued a window sticker full of information specific to that vehicle. It is also called the Monroney label or sticker, named after the United States Senator that sponsored the Automobile Information Disclosure Act of 1958. The window sticker is required to include the MSRP.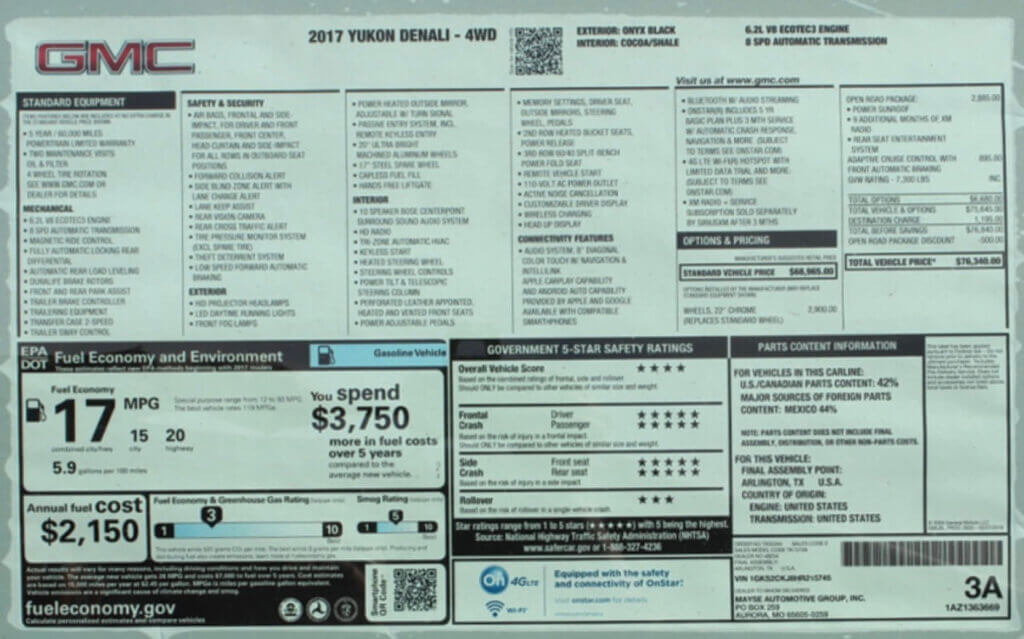 What is a Dealer Addendum Sticker?
If the local car dealership added items to the vehicle, you may see an addendum sticker next to the government required window sticker. This dealer installed sticker may list items like fabric protection, paint sealant, rustproofing, chrome exhaust tips, pin striping, nitrogen filled tires, floor mats, splash guards, cargo trays, window tinting, wheel locks, and upgraded wheels. These are high profit items for the dealer. Some items like paint sealant may be completely unnecessary.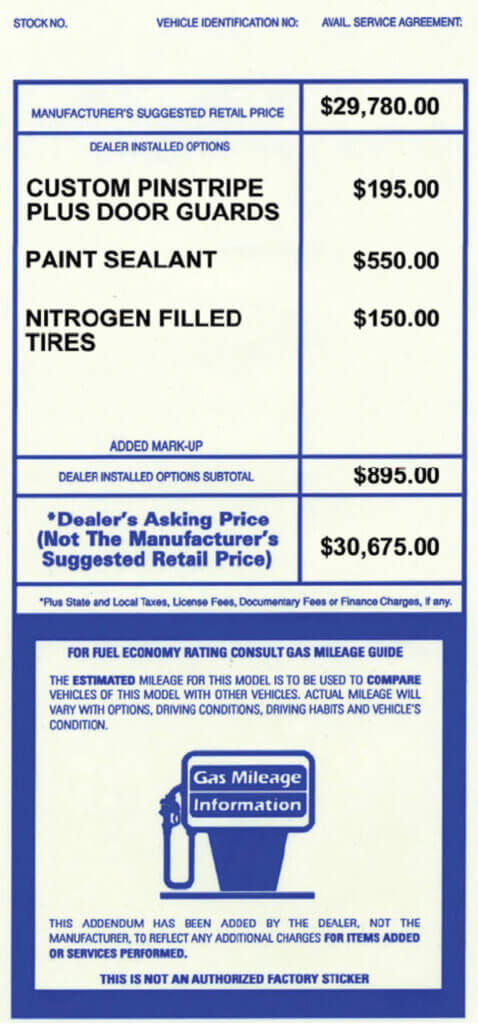 Some dealers today are significantly raising the price over MSRP by putting a line item on the Dealer Addendum Sticker labeled as Additional Dealer Markup, Adjusted Market Value, or Market Adjustment on high-demand vehicles. Be very cautious. This is an arbitrary number that a dealer puts on top of the MSRP as pure profit. You may even call this price gouging. Find a dealer that sells at MSRP or less. They do exist.

You can help call out the dealers that are tacking on thousands over MSRP. One website, Markups.org, uses crowdsourced data to highlight how some dealers are taking advantage of consumers. You can also be a part of a "buyers' strike". A buyers' strike occurs when enough buyers stop purchasing specific vehicles over a period of time. This will eventually lead to increased inventories and price reductions.