Today the White House outlined a plan to increase vehicle fuel economy and decrease greenhouse gas emissions. President Obama announced a policy that would significantly increase fuel economy ratings for vehicles starting in just 3 years – 2012. Here is an excerpt from the press release: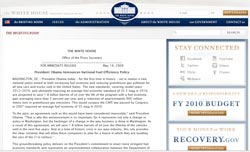 The new standards, covering model years 2012-2016, and ultimately requiring an average fuel economy standard of 35.5 mpg in 2016, are projected to save 1.8 billion barrels of oil over the life of the program with a fuel economy gain averaging more than 5 percent per year and a reduction of approximately 900 million metric tons in greenhouse gas emissions. This would surpass the CAFE law passed by Congress in 2007 required an average fuel economy of 35 mpg in 2020.
I am writing this blog from a rest area near the Minnesota/Iowa border. As I am sitting outside under the picnic pavilion I am watching all the cars and trucks coming and going…saying to myself, yep that car gets 24 mpg, that truck 18 mpg, etc. I believe this is the exact right time to make such a bold move. The technology is advancing, energy issues are at the forefront, and automakers are already restructuring to a changing economy. This plan will help push innovation in high gear. Seven years from now hopefully I will be able to look at cars on the freeway or in a parking lot and say…yep that car gets 39 mpg, that truck gets 30 mpg…for the majority of new vehicles that I see.
What do you think? Is President Obama's plan achievable?