Written by a Guest Blogger
In the modern era you'd do well to find something that didn't feature electronics. With smartphones, tablet computers and other forms of mobile tech pretty much everywhere you look, even motorists are starting to feel the benefit of the advancements in technology of the past decade.
We all know about satellite navigation systems that help us to reach our destinations and there are even 'black boxes' that help us to find budget car insurance to bring costs down; but there are also other forms of technology that help those working in the motoring industry, and those who drive or travel a lot, to take the stresses away and make motoring fun.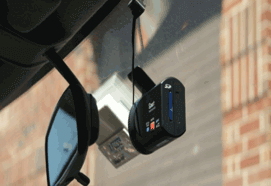 The previously mentioned 'black boxes' monitor driving styles including speed and braking as well as the time of day that the car is driven, and insurance is calculated based on the results produced with 'bad' drivers charged more. These devices use telematics and GPS technology and are also used in fleets as 'tracking devices' so that the depot manager can monitor the driver's location as well as their performance, working out fuel consumption and whether they've taken the best route.
Hands-free kits have also proven to be highly beneficial, particularly for commercial drivers. Using a mobile phone while driving is illegal, but many sat nav systems feature Bluetooth technology that enables drivers to talk on the phone while driving absolutely hands free and avoiding the risks (and penalties) associated with driving while talking on the phone.
Satellite navigation has certainly been the most beneficial technology to make it onto our roads. In the past the traditional paper-based road maps were all we had to guide us to our destinations, (in theory at least!) Today, we are given audible directions and visual maps that are adjusted at real-time speeds to help us find the most appropriate route.
A lot of the more modern cars have a great deal of technology built into the dashboard. We have the ability to use the BMW iDrive feature and the Audi MMI programme, and in the future we're looking likely to have WiFi and 4G built in to enable us to surf the web, stream television shows and watch DVDs, all on a car dashboard. Expect that all to be relatively soon as the bond between cars and technology is growing stronger with every passing mile!