School's out! Guess what this means? Road trips! But before you jump in the car and hit the road, check your tires thoroughly. An improperly inflated tire can lead to a blowout. Insufficient tread on your tire can make you hydroplane. And if your tire is reaching its useful age limit, you might have a sleeping hazard awaiting you. Whether you are in a part of the world that spells car tires with an "i" or car tyres with a "y", tires (tyres) are your only link to a rural road, interstate highway, expressway, or autobahn.
Check Your Tire Pressure
Follow these steps from the Auto Upkeep text and any specific procedures in your owner's manual to properly inflate your tires. Important: Always check tires when they are cold and when you have access to an air compressor.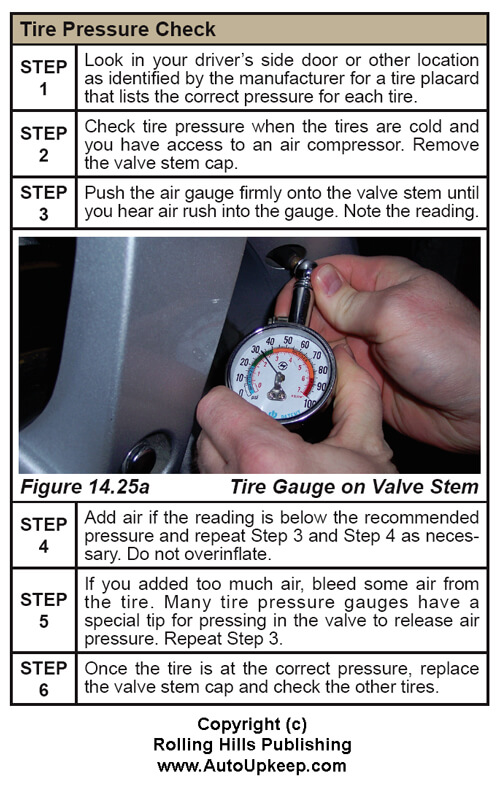 Measure the Tread Depth
If your tires are properly inflated, but don't have sufficient tread on them, you are putting you and your family in danger. Go to an auto parts store or online and purchase an inexpensive tread depth gauge. Tread depth is measured in 32nds of an inch or in millimeters (mm), depending what part of the world you live. If you have anywhere close to (or less than) 2/32nds of an inch or 1.6 mm, you need to purchase new tires. New tires commonly come with 11/32nds (or 8.73 mm) of tread. You may have read about methods of using a US penny to measure tire tread. This may be OK in a pinch, but it is best to purchase a quality tire pressure gauge and tread depth gauge and put them in your glove box so you always have them. As a last resort, tires also have "wear indicator bars" manufactured into and that run perpendicular to the tread. When the tread reaches these indicator bars, it is essential that you replace the tires.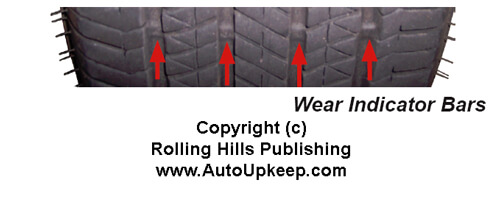 Find Out When Your Tires Were Manufactured
Checking your tires' birthday is another critical (but often overlooked) important check before you get on the road for vacation. As a tire ages, they begin to degrade. ABC 20/20 did an outstanding investigative piece on the dangers of old tires. It is your job as the car owner and driver to check this date code. Look on your tire's sidewall for the DOT code (see picture). If your tires are older than 6 years but still have significant tread on them, you should still consider replacing them. And remember, when you purchase new tires check the code too! A tire reseller may be selling you a new "old" tire!