Automobiles are expensive to own and operate. But if you are thinking of skipping the step of insuring your vehicle so you can put gas in it, think again. You risk getting fined, your license suspended, vehicle impounded, or even jail time if you don't comply with your state's law. Minimum insurance coverage levels vary by state, so you'll need to find out what the minimum requirements are in your area and purchase at LEAST that coverage.
How to Read Liability Insurance Numbers
Insurance numbers are listed in a series. For example, one policy might be listed as 20/40/10. What do these mean? The first number in a liability policy indicates the bodily injury coverage level. In this example, the policy would cover up to $20,000 per person. The second number identifies the total limit of bodily injury for the accident for all the occupants in the vehicle combined. In this example, the policy would cover up to a total of $40,000. The last number indicates the property damage limit. In this example, the policy would cover a total of $10,000 in property damage per accident.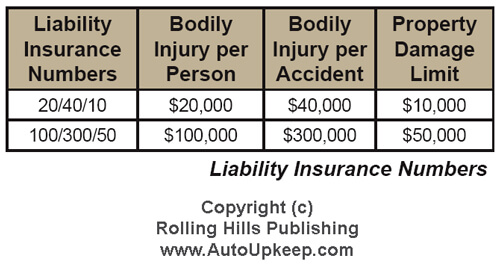 How Much Auto Insurance is Enough?
The amount of insurance that you purchase is totally up to you, as long as you meet the minimum state coverage. If your budget is tight and you need to get by month to month with the lowest premium possible, then purchasing the minimum coverage may be right for you. But remember, if you get into an accident and you are found at-fault, you will be held responsible for any amount that exceeds your minimum policy. To find out the minimum required in your state, complete an internet search with the keywords "minimum motor vehicle insurance coverage in _______" – and insert your state's name in the search. Be sure to look for the official Department of Motor Vehicle (DMV) state site to get the most up-to-date info. Or call you local DMV office to find what the minimum requirements are.

Are You a High Risk Driver?
Insurance policy costs can vary dramatically between low risk drivers and high risk drivers. What constitutes whether or not you are a "high risk driver"? Understandably, having a DUI/DWI on your record can increase your policy. Another risk factor is your age. While this may seem unfair, if you are a teen or elderly driver you may be put into a high risk category. The key is to keep your driving record clean, don't get traffic violations, stay out of accidents, and keep at least the minimum motor vehicle coverage.
OK, I am High Risk…Now What Do I Do?
If you are classified as a high risk driver and have a limited budget, you should research auto insurance companies that specialize in providing minimum car insurance costs at a discounted rate. Some auto insurance companies specialize in providing coverage in specific states. For example, Good2Go Auto Insurance offers policies in Arizona, Colorado, Connecticut, Delaware, Georgia, Louisiana, Mississippi, Missouri, North Carolina, New Jersey, New Mexico, Oregon, Pennsylvania, South Carolina, Virginia, Washington, and the District of Columbia.
Get Insured!
Look at your finances and develop a budget. If you don't want a fine or possibly jail time, then you need the minimum state coverage. Increase your liability insurance numbers as your budget allows if you want even less risk. Some insurance companies allow you to pay either monthly, quarterly, bi-annually, or annually to meet your specific budget. Insurance is just as important as motor vehicle registration, gas in the tank, and oil in the engine.