Much of the country, from the upper Midwest to Florida, is in an Arctic cold blast. But what does this mean for you when you travel? Becoming stranded in sub-zero temperatures is not only inconvenient, it can be deadly. So what advice is good advice? Who are the experts? One state that has its fair share of experience with winters is Minnesota. The guide titled "Winter Survival in Your Car" is an excellent resource for all winter drivers. It is produced by the Minnesota Department of Public Safety, Homeland Security and Emergency Management office.
This guide focuses on:
Survival Tips;
Winter Driving Tips;
Making a Winter Driving Survival Kit; and,
Making Emergency Phone Calls.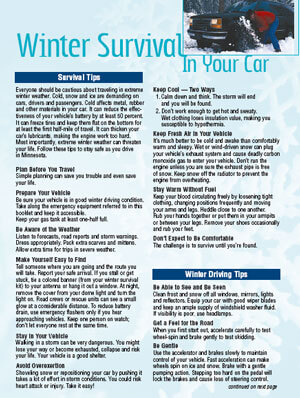 Take a few minutes to review the guide…it could save your life!
Don't have time to make a kit. Check out the kits below.