On a hot summer day you walk up to your car and gasp to get inside. You rush to lower the windows, but still, whew…it is hot inside! The 3rd Generation 2010 Toyota Prius will combat this common problem. By installing photovoltaic solar cells on the roof, the sunlight powers the Prius's ventilation fans to exchange hot inside air for the air outside. This keeps the inside temperature of the vehicle near the outside ambient temperature. Not only does it conserve energy by minimizing how hard the air conditioning has to work right when you jump in the car, I believe it has an added value. Even though the Prius will start to use ecological plastics in interior components, some conventional (petroleum based) plastic remains. The active ventilation system run by the solar panels will exchange "new car smell" air for outside air.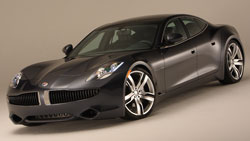 A new car, from a new company – Fisker Automotive (Est. 2007), will also feature solar panels on the roof. The 2010 Fisker Karma, a luxury plug-in hybrid sedan with a starting price of $87,900 (available later this year) uses a glass solar roof panel to help propel the vehicle, cool the inside air when parked, recharge the batteries, and provide power to accessories.
The 2009 Audi A8 uses a solar sunroof to exchange hot inside air for outside air when the ignition is off.
Solar panel integration with automobiles is exciting. As photovoltaic prices continue to decrease, we may see more integration in automobiles.
What do you think? Will we see more cars with solar roofs?