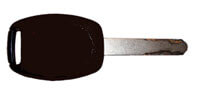 Wouldn't you love to limit the speed of your teen driver? How about the audio level of the sound system to minimize distractions? Ford Motor Company introduced MyKey ™ to address these issues. Through the vehicle's message center, parents will have the option on some 2010 Ford vehicles (the Ford Focus, a popular car for young drivers, will be the first model to offer it) to program the key that their teens will use. A transponder chip inside the key communicates with the vehicle when it is inserted in the ignition.
According to the Ford Press Release (direct quote):
When the MyKey is inserted into the ignition, the system reads the transponder chip in the key and immediately identifies the MyKey code, which enables certain default driving modes, including:
• Persistent Ford Beltminder™ with audio mute. Ford's Beltminder system typically provides a six-second reminder chime every minute for five minutes. With MyKey, the Beltminder chime continues at the regular interval and the audio system is muted until the safety belt is buckled. A message center display "Buckle Up to Unmute Radio" also appears on the instrument cluster.
• Earlier low-fuel warning. Rather than a warning at 50 miles to empty, MyKey provides a warning at 75 miles to empty.
• If MyKey is in the ignition, features such as Park Aid and BLISTM (Blind Spot Information System) with Cross Traffic Alert cannot be deactivated.
Additional MyKey features that can be programmed through the vehicle's message center setup menu:
• Limited top speed of 80 mph
• Traction control system, that limits tire spin, cannot be deactivated
• Limited audio volume to 44 percent of total volume
• A speed alert chime at 45, 55 or 65 mph
The speed limiter feature is great! Some teen drivers during their first year or two of driving want to find out how fast their car will go. The limiter feature will help them not reach dangerous speeds. The traction control "always on" feature will help parents save money on tires. With the traction control always enabled, tire squealing/burnouts will be difficult. To help minimize distractions, the audio control on the sound system is definitely a plus.
According to the Center for Disease Control (CDC) vehicle accidents are the leading cause of death of teens in the United States. I applaud Ford for taking a proactive step in helping parents with their teen drivers.
What do you think? Will the MyKey ™ system make teens drive safer?