This week's blogs have focused on teen drivers. Remember, according to the CDC teens are more likely to die in a motor vehicle accident than from any other cause. What can you do to help your teen develop safe driving habits that will help them survive their most turbulent years (16 -24) as a driver?
The National Safety Council developed the "Alive at 25" online program. This program focuses on:
* Encouraging parent/teen partnership throughout the entire process, from learning to drive through independent driving.
* Offering practical solutions so parents can take responsibility to reduce the unique risks and hazards teen drivers face.
* Helping parents understand teens' need for defensive driver training.
* Examining how to approach Graduated Driver Licensing (GDL) laws, in addition to those related to safety belts, speeding, and alcohol and drugs.
* Providing a recommended example of an effective Parent/Teen Driver Contract, and discussing the importance of how parents and teens can use it to manage their driving experience.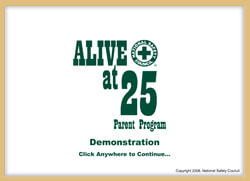 The National Safety Council has a website dedicated to Teen Drivers – check it out at TeenDriver.NSC.org.
What will you do to help your teen become a safe driver?