Yesterday Chrysler released a list of 789 dealerships that will be closing due to their Chapter 11 bankruptcy restructuring. General Motors (GM), not yet in bankruptcy court, said today that they will begin notifying 1,100 "underperforming and low sales volume" dealerships "about their long term plans". See the official press release HERE.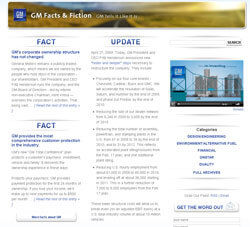 This is the start of dealership closings for GM. They intend to restructure their dealer network to about 3,600 by the last quarter of 2010. This means, in addition to the 1,100 dealers they will begin to notify today, another 1200 or so will be notified in the future. GM currently has 5,969 dealers. Since the average dealer employs around 50 people, the total dealer cuts (789 Chrysler and eventually 2300 by GM) could lead to over 150,000 dealership jobs losses by 2010. (See National Automotive Dealers Association "NADA" statement). Due to the fact that in our information society news travels fast, and some misconceptions develop, GM developed the website GmFactsandFiction.com.
What do you think? Will a smaller network of dealers make Chrysler and GM profitable? Or will less dealers result in fewer sales?