Written by a Guest Blogger
In the pre-technology days, the only way to navigate from A to B if you didn't know the area was to learn how to read a road map. Most people found this worked just fine, but a few unfortunate souls struggled to tell the difference between the map symbols for roads, railways and rivers – and came to a sticky end in the process.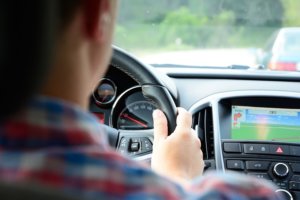 Times have changed, however, and today's modern drivers have all kinds of technological tools at their disposal. You can watch DVDs in the back seat, listen to CDs, charge your smartphone, and even plug in a pizza oven if you are feeling a bit peckish. But what happens if you get lost and you don't have a road map handy?
A Popular Device for Drivers
Sat Navs are probably the most common piece of car technology available in the stores today. Many modern premium car models come with an integral satellite navigation system included. The screen for this is normally embedded in the dashboard. Stand-alone systems can be bought from a wide range of different stores, online and offline. The device can be attached to the window screen via a suction cup and it obtains power from the vehicle's 12 volt DC socket for power. Two brands tend to dominate the market of satellite navigation in Europe; Garmin and TomTom.
Sat Navs come ready equipped with mapping software. This can usually be updated, which is important since road networks change over time as new roads are built or altered. Better quality devices monitor local traffic flow and will choose the best route accordingly. They will also update the route in real-time if delays as a result of heavy traffic or accidents are detected. Some systems even detect speed cameras and other traffic control devices, which is very useful if you don't want any more points on your licence.
The Benefits
The beauty of using a satellite navigation device is that you can keep driving without having to continuously look at a road map. These devices don't just have dynamic maps to guide you through unfamiliar road systems – they also offer voice assistance. Most also come with a selection of different voices, so you can choose the one that appeals the most. Therefore if you would prefer a husky voiced lady directing you as opposed to a polite gent, go right ahead. You can even download celebrity voice commands if you like!
The Disadvantages
Stories of drivers blindly following the instructions of navigational systems, despite the fact that they are about to drive up a railway track or over the edge of a cliff abound. There is definitely something about owning one of these devices that sends common sense screaming for cover, so if you own one, make sure you watch out for road signs and don't continue down a route that is clearly dangerous to life and limb.
Sat Navs are also very attractive to thieves and if you leave yours in plain view while you go shopping don't be surprised if you come back to a smashed window, a missing device, and the car alarm blaring away.
Before buying a new satellite navigation system, read reviews and price check to ensure you get the best value for money.