We have several nieces entering the driving age. I know when I turned 16 the first thing I wanted was to get my own car. But what is a good car for a teen and what should parents be looking for?
According to AAA, teens need "safe, reliable and affordable transportation"…with safety being #1. Did you know that according to the CDC (Center for Disease Control) that "motor vehicle crashes are the leading cause of death for U.S. teens, accounting for more than one in three deaths in this age group".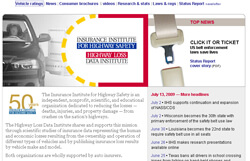 Edmunds.com suggests that new drivers should have a newer vehicle because they are safer. Vehicles that are mid-size or larger, ones that have electronic stability control (teenage drivers are more likely to lose control and rollover), and have multiple air bags (front and side protection) are best for young drivers. Check out Edmunds.com "Top 10 High-Tech Car Safety Technologies" that can help new drivers and U.S. News and World Report article on "The 5 Most Dangerous Cars for Teens".
Finally, research the Insurance Institute for Highway Safety ratings on specific vehicles.
After reading this, what do you think would be a good car for your teen?