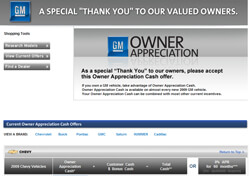 As an owner of a 2000 GMC Sierra 2500, I recently received a letter in the mail from General Motors. The first paragraph of the letter was as follows:
"First off, I'd like to thank you for being a GM customer. Your current and future business means a lot to us. Given all the recent media coverage about GM, I am writing you today to address some questions you may have, and to assure you that we are here to stay and ready to serve you."
The second paragraph was interesting, not a word about the bankruptcy, but more upbeat:
"As you may know, GM is using an expedited, court-supervised process to accelerate the reinvention of our company…"
I have to hand it to GM, they are working hard to keep current GM owners. In the letter was an "Owner Appreciation Certificate" valued between $1,000 – $2,750. If you need a new vehicle, this is probably the year to buy one. Go to GM.com/Owner to check out the incentives.