In 1996, GM discontinued its full-size, body-on-frame car architecture – ending the Caprice Police Car production. But 15 years later, GM plans to emerge as a leading provider of vehicles to law enforcement centers. The all new 2011 Chevy Caprice Police Car has the following special features:
• Powerful 6.0L V-8 with fuel-saving Active Fuel Management technology and E85 capability delivers expected best-in-class 0-60 acceleration (sub six seconds) and top speed; a V-6 engine will also be offered, beginning in the 2012 model year
• Optional front-seat-only side curtain air bags allows a full-width rear-seat barrier for greater officer safety
• Two trunk-mounted batteries, with one of them dedicated to powering various police equipment
• Designed for five-passenger seating, meaning the upper-center section of the dashboard can be used for equipment mounting without the concern of air bag deployment interference
• Compatibility with in-dash touch-screen computer technology
• Special front seats designed for the long-term comfort of officers whose car is their effective office, including space that accommodates the bulk of a typical equipment belt
• A larger interior volume – 112 cubic feet / 3,172 liters – than the Ford Crown Victoria, including nearly 4 inches (101 mm) more rear legroom
• The barrier between the front seat and rear seat is positioned farther rearward, allowing for full front-seat travel and greater recline for officer comfort
• At 18 cubic feet (535 liters) free space (beyond battery located in trunk), the Caprice's trunk volume is large enough to accommodate a full-size spare tire under a flat load surface in the trunk storage area.
• High-output alternator
• Engine oil, transmission and power steering coolers
• Standard 18-inch steel wheels with bolt-on center caps
• Large, four-wheel disc brakes with heavy-duty brake pads
• Heavy-duty suspension components
• Police-calibrated stability control system
• Driver information center in the instrument cluster with selectable speed tracking feature.
Read the full press release.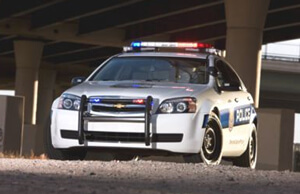 What do you think? Will the new Chevrolet Caprice Police Patrol Vehicle become the leading choice among law enforcement agencies over the Ford Crown Victoria Police Interceptor and the Dodge Charger Police Vehicle?