GM announced today that "a number of potential buyers have surfaced and expressed interest in the Saturn brand and retailer network" (GM Press Release). The billion dollar question is, who will buy it?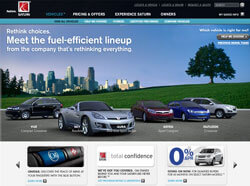 Saturn, a division of GM since it was founded in 1985, has branded themselves as a "different kind of car company." Ten years after inception, Saturn produced its 1,000,000th car. Four years later, it produced its 2,000,000th car. View a history of Saturn here.
Close to 25 years after Saturn was founded, it is reported that this division has never been profitable for GM – except maybe for one year according to this report.
So who will buy a company that has shown to be a drag on the behemoth GM? A private equity firm? It has been reported that the private equity firm, Black Oak Partners LLC may be interested. That approach didn't work so well for Chrysler when Cerberus Capital Management purchased Chrysler from then DaimlerChrysler (now Daimler AG) in 2007. Will the United States government be bailing out Saturn from an equity firm deal gone bad in a few years?
What do you think? Can Saturn become a viable stand alone company?