Today General Motors announced that the Chevrolet Volt is expected to achieve 230 MPG in the city.
The Chevrolet Volt extended-range electric vehicle is expected to achieve city fuel economy of at least 230 miles per gallon, based on development testing using a draft EPA federal fuel economy methodology for labeling for plug-in electric vehicles.

The Volt, which is scheduled to start production in late 2010 as a 2011 model, is expected to travel up to 40 miles on electricity from a single battery charge and be able to extend its overall range to more than 300 miles with its flex fuel-powered engine-generator. See the full press release HERE.
For more information about the Chevrolet Volt, go to http://media.gm.com/volt/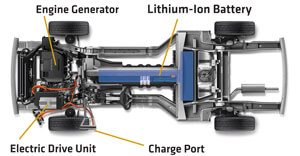 If you are looking for a fuel efficient vehicle, check out the US Government run site – FuelEconomy.gov
What do you think? Will the Chevrolet Volt help turn around GM?