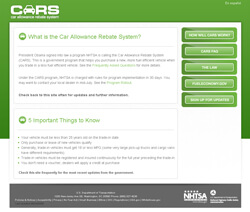 President Obama signed the bill containing the Car Allowance Rebate System program, also known in the press as the Cash for Clunkers legislation. To help consumers, the National Highway Traffic Safety Administration (United States Department of Transportation) created a new website CARS.gov.
CARS.gov published the following "Things to Know":
Your vehicle must be less than 25 years old on the trade-in date
Only purchase or lease of new vehicles qualify
Generally, trade-in vehicles must get 18 or less MPG (some very large pick-up trucks and cargo vans have different requirements)
Trade-in vehicles must be registered and insured continuously for the full year preceding the trade-in
You don't need a voucher, dealers will apply a credit at purchase
Visit the CARS.gov website for more information about the program.