Fuel from Algae may be the next craze in the alternative fuel marketplace. (Learn about Algae.) The significant, quick growth of algae is the key. Some algal strains can double their mass several times in one day. This has received attention from investors. According to this Popular Mechanics article, investors are spending millions to find out if Algae can be a potential money-making biofuel.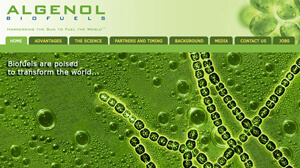 The United States Department of Energy lists the following benefits:
Benefits of Algal Biofuels
Impressive Productivity: Microalgae, as distinct from seaweed or macroalgae, can potentially produce 100 times more oil per acre than soybeans—or any other terrestrial oil-producing crop.

Non-Competitive with Agriculture: Algae can be cultivated in large open ponds or in closed photobioreactors located on non-arable land in a variety of climates (including deserts).

Flexible on Water Quality: Many species of algae thrive in seawater, water from saline aquifers, or even wastewater from treatment plants.

Mitigation of CO2: During photosynthesis, algae use solar energy to fix carbon dioxide (CO2) into biomass, so the water used to cultivate algae must be enriched with CO2. This requirement offers an opportunity to make productive use of the CO2 from power plants, biofuel facilities, and other sources.

Broad Product Portfolio: The lipids produced by algae can be used to produce a range of biofuels, and the remaining biomass residue has a variety of useful applications: combust to generate heat; use in anaerobic digesters to produce methane; use as a fermentation feedstock in the production of ethanol; and, use in value-added byproducts, such as animal feed.
What do you think? Will algae be the next big fuel source?