Written by a Guest Blogger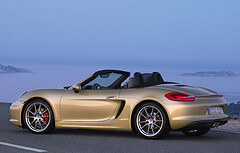 For any car enthusiast, the ultimate dream is to own a luxury car. The car of choice will vary from person to person, but the luxury feeling is the same. It may be an old classic like an Austin Healey or a classic Ferrari. It may be a newer model like a Porsche Boxter or even a Lamborghini. Whatever the car, the important thing is that you feel like a superstar when you drive it.
The concept of luxury will differ depending on what you want from your car. For some, luxury is the fierce roar of the engine under the bonnet. It's the speed and power that comes from within. For others, luxury is more about the refinement and sophistication. It's about the comfort and quiet of the ride and the elegance of the design. This is the difference between a McLaren and a Bentley.
However, there is no doubt that these are both luxury cars. And when you own a luxury car, you want it to stay exactly like that. You want that paint finish to shine like it's brand new. You want the interior to remain pristine and luxurious. You want the engine to roar every time you put your foot down. You don't want dirty paintwork, messy interior and an engine that chokes. With that in mind, you've got to take care of your luxury car. It's important to look after it, both inside and out. That's what today's article is all about. We'll look at how you can keep your luxury car feeling brand new.
The car itself – First of all, the level of care will differ depending on the car you own. For example, for some petrolheads, there is no purer experience than driving a classic car. No horsepower and torque in the world can match the feeling of driving a classic Corvette. If this is the case, you'll need to be prepared to put in a lot more work. Classic luxury cars require renovation, modernisation and restoration. Their engines are more fragile and their parts more elusive. On the other hand, if your idea of luxury is a newer model, it's much easier. You can buy a Porsche or a Bentley from Red Line Specialist Cars and you'll barely have to lift a finger. Modern luxury cars are the best of the best. They are reliable, powerful and solid.
Classic restoration – If you have your heart set on a classic luxury car, you'll have to be prepared to work. These cars were not built with 21st century driving in mind. Their brakes, steering and suspension no longer hold up against even the most modest current cars. You'll have to hunt down new parts and take the time to breathe new life into it.
General maintenance – Even with the super reliable, modern luxury cars, they won't maintain themselves. You'll still wear down the brakes, the tyres and the engine itself. Looking after a luxury car is no different to a standard road vehicle in this sense. You simply have more to lose if you don't stay on top of it. As with any vehicle, you should regularly check the fluids, especially the oil. Change it when necessary and don't let it become dark brown or black in colour. Check the tyre tread and the tyre pressure and ensure they are running at the correct levels. Clean or replace your air filters regularly and check the wear on the brakes. These simple checks will keep your luxury car feeling luxurious every day.
Servicing – The general maintenance checks you can easily do yourself. However, it's also worth checking in with the professionals every once in a while. They will be able to sport impending problems before they happen. More importantly, modern luxury cars are heavily reliant on electronic systems. These cannot be easily accessed or maintained by yourself. Electric systems require expert knowledge and so regular, professional servicing is essential.
Cleaning and detailing – When you own a luxury car, it's all about the looks. It may sound superficial, but that's what draws us to the car in the first place. The elegance of the curves and the sleek designs are what made us fall in love with cars. It is this aspect of the vehicle that you need to work hard to maintain. In order to keep it looking beautiful, you need to learn how to clean it like the pros.
Outside – First things first, let's look at cleaning the outside of the car. The biggest mistake here is taking it to a mechanical car wash. The experts always advise washing your luxury car by hand. It provides a much deeper, more thorough clean. Luxury car owners tell us that they love the experience of hand washing their car. Once you've given it a full soapy wash, get into the details with paint cleaners. You may also want to purchase a small paint pen from the manufacturer that matches your colour. It will allow you to cover up small scratches. Finally, you'll need to buffer the car to bring out that shine and then finish it with a good wax. Don't forget the windows, the wheels and the tyres themselves.
Inside. – Naturally, you can't prevent any accident, but try to prevent anything that could cause stains or damage. Most luxury cars have leather trim which is easily maintained. Dust and vacuum regularly. Then use a leather cleaning product to keep it looking brand new. The carpets are your final consideration and ignoring them could spoil everything. Use a stiff brush to remove dirt and then vacuum.
Remember, the cheap things become quite expensive. There are so many benefits to owning a luxury car. However, one downside is the cost of the small things. Everything from fluids to car parts can be expensive because they are rare or specific. Just take this into account when you're budgeting for maintenance.
There you have it, folks! Don't let your pride and joy fall into disrepair. Keep it looking and running like brand new with these tips and tricks. See you next time!