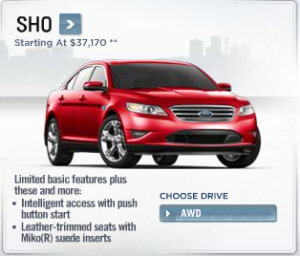 I remember the SHOs (Super High Output) of the 90's with the Yamaha built 220 horsepower engine (See older model SHOs specifications). Those were rockets. Ford has now developed their own high performance engine with a whopping 365 horsepower with decent mileage to boot.
Here are some of the specifications of the new 2010 Taurus SHO:
Drivetrain: All-Wheel Drive (AWD)
Engine: 3.5L EcoBoost™ 24-valve DOHC V6
Transmission: 6-speed automatic
Horsepower: 365 @ 5550 rpm
Torque: 350 lb-ft @ 1500-5250 rpm
Fuel Economy: EPA-estimated 17 city/25 highway (AWD)
With 350 lb-ft of torque, the new SHO will surely glue you to your seat. See MotorTrend's video review of the new 2010 Taurus SHO below.
[youtube]https://www.youtube.com/watch?v=Jlshmh6ZMeQ[/youtube]
What do you think? Will the new Taurus SHO be successful?