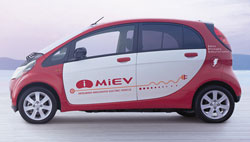 On the West Coast, electric charging stations are gaining attention once again. Portland General Electric (PGE), a utility that claims that their "customers are number one in the nation in purchasing renewable power", is teaming up with Mitsubishi and the state of Oregon to create a network of charging stations for upcoming zero emission electric vehicles. Mitsubishi's "i MiEV" (Mitsubishi innovative Electric Vehicle) is what Mitsubishi Motors is betting on. The i MiEV has a 47 kW (63 hp) electric motor, uses Lithium-ion batteries, has a range of 160 km (99 miles), a maximum speed of 130 km/h (81 mph), and can seat 4 people. Even though charging the i MiEV at home may take as long as 14 hours, it should be able to be quick charged by a utility charging station in about 30 minutes.
It will be interesting how quickly charging stations can pop up throughout the United States. To find out if there are electric charging stations in your neck of the woods, go to the Alternative Fuels and Advanced Vehicles Data Center run by the United States Department of Energy.
As we move closer and closer to plug-in hybrids and all-electrics I wonder how the nation's refueling infrastructure will change. Will you be able to travel across the country by "filling up" with electricity? Maybe you will be able to stop at a fast food chain and get a recharge for your belly and for your car!