Do you like the "New Car Smell"? I hope not! Plastics, adhesives, and sealers release numerous volatile organic compounds (VOCs) into the air. A study titled "Toxic at Any Speed: Chemicals in Cars and the Need for Safe Alternatives" found toxic chemicals releasing inside cars. Over the past few years carmakers have made strides in making their interiors safer and more ecologically friendly.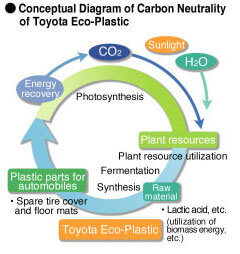 This year Toyota plans to increase its use of plant derived plastics. Toyota's goal is that these "ecological plastics" will be used in about 60% of the interior components on vehicles that feature the new technology. Toyota states that the new plastic emits less carbon dioxide and reduces their petroleum use. These measures by carmakers may ultimately lower the industry's ecological footprint. (Ecological footprint is defined as "a measure of human demand on the Earth's ecosystems".)
I hope studies will support that by incorporating new bio- and eco- plastics there will be a significant reduction of harmful chemicals inside vehicles. How can you reduce your exposure to car interior toxins today? Since heat and ultraviolet (UV) light increase the release of chemicals into the car's interior – don't park in the sun if you can help, put a solar reflector in your windshield if your vehicle is in the sun, and ventilate the interior by opening the windows.
To learn more about your Ecological Footprint, visit the Global Footprint Network website.