When you hear the word "hybrid" you probably think of the best selling hybrid – the Toyota Prius. Some people want to be environmentally conscious but also ride in luxury style. Not to say that a Prius isn't fun and stylish in its category, but you might need something that speaks a little more business. This is where Lexus (part of Toyota Motor Sales) excels. You can spend anywhere from $50,000 for a Lexus GS Hybrid 340 total Horsepower) to a $100,000 for a Lexus LS Hybrid (a whopping 438 total horsepower).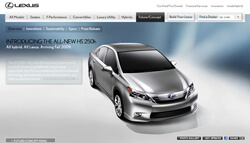 The most exciting upcoming hybrid vehicle from Lexus is the 2010 HS 250h arriving this fall. The HS is more practical (with a reasonable 187 total horsepower). It is powered by a 4 cylinder 2.4-liter Atkinson-cycle engine with a high-output permanent-magnet electric-drive motor, includes ultra safe features with 10 airbags, uses ecological plastics in 30% of its interior and cargo area, incorporates a LED head-up display, and the list goes on.
Lexus has put together a great video demo illustrating how hybrids work. View the video HERE to learn more about Lexus Hybrid Technology.
What do you think? Can you be environmentally conscious and have luxury too?