General Motors hopes to begin selling the Chevy Volt in 2010. Tesla Motors currently sells the Tesla Roadster. Mitsubishi plans on selling the i MiEV. And now Best Buy is making its way as an electric vehicle retailer. Several media outlets (CNET, AutoBlog, Wall Street Journal) have reported that Best Buy will begin selling the Brammo Enertia – a plug-in electric motorcycle – at retail stores.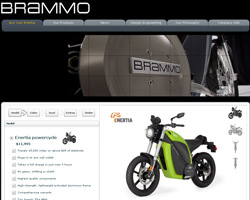 According to the Brammo website, the Enertia powercycle has the following specs:
* Travels 15,000 miles on about $85 worth of electricity
* Plugs into a standard wall outlet
* Has no gears or clutch
* Has a top speed of 55+ MPH
* Has a range of 45+ miles
For more information about the Enertia, go to Brammo.com.