Written by a Guest Blogger
Often, when you see a nice looking car, you possibly don't miss to look at its number plate just to understand what it says about the owner or which message does it bear?   These days, almost all the vehicle owners want to have the number plates that would represent their relation to their cars, their professions or for something they're passionate about.  Thus, having personalised number plates have become a huge fad and designing them is really a creative process. It's further a high approach to express one's individuality in way that the onlookers would also enjoy.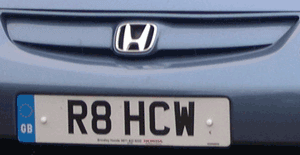 But the question is why do people bother getting their own plates if they can get regular plates? Well, there must be something good on getting such plates.  This is the reason why we regularly see beautifully designed personalised number plates in television series and films that show certain traits of the characters. Thus, these plates are just in a massive trend and that's why last year Driver and Vehicle Licensing Agency of UK raised £67m from the sale of personalised number plates. And if you do remember, the Duke and Duchess of Cambridge drove the car during their wedding with its number plate read JU5T WED.
Thus, for those who're thinking of getting such personalised number plates, needn't give much thoughts as it's certainly going to be exciting and personal on having such plates. Let's check out some clear and concise reasons to go for your own personalised plates.
Personalises Your Car
Among the most common reasons to get such plates is to personalise a car. For all the owners, their vehicles are very important and they do give significant attention to them. Thus, they employ many personalisation options such as changing the colour, alloying wheels, tinted windows and many other modifications. This has, further led many owners wishing to put more personal touch on their vehicles by putting an array of personalised number plates that either indicates any messages or display their personality.
Promotes Your Business
You can also make the most of promotion with the help of personalised number plates. For example, if you run any business that you'd want to promote and it might require some travel, then personalised number plates are great ways to denote your business title and similarly marketing your company even though you're out driving.
Moreover, even if your car is parked up somewhere, the passer-bys are more likely to drive their attention towards your number plate if it's made   uniquely. Thus, you never know how it could all advertise your business so effectively.
It's an Investment
There is yet another amazing reason to think about having your vehicle personalised number plate is that it can be truly a good investment.  If you get the plates that are highly looked for or probably to be desired by a whole lot of people, you can surely ascertain the value of your unique number plates goes up over the years. And in the upcoming days, if you want to sell out your number plate, it'll surely fetch you thousands of pounds beyond a shadow of a doubt.
Thus, when it comes to get your personalised number plates, you should do a good research so that you can find out best plate that will surely add up to the value. Along with this, a personalised number plate can hide the age of your car and can give stunning appearance as well. So, opt for your very personal yet unique number plate and let your car go extra miles!
About The Author :
Ross Wright is a great car enthusiastic and he also has a huge collection of Private number plates in the UK. According to him having such number plates with unique National Numbers will surely make the most of any car as well as presenting special messages or persona.