Written by a Guest Blogger
Okay, so you like the idea of owning a cool old car – something that's a hoot to drive, be a total head-turner and grant you access to a whole bunch of new, fellow classic car fans as well as benefits such as cheap insurance, cheap parts and zero depreciation.
But how do you go about buying your first old car, and what things ought you consider before joining the wild and wacky world of classic car ownership? Here's our top ten tips…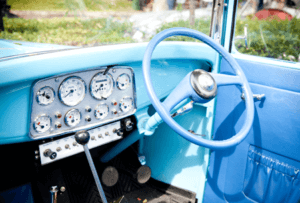 1. Be realistic
Think about where and when you'll be using your new retro pride and joy and choose accordingly. There's little point buying a 1950's open top two-seater if you need to use it on the motorway, or to transport your kids and family dog. Perhaps a classic VW estate might be more appropriate here.
2. Storage
Consider where it will be kept? A garage is essential for a soft top, unless you want wet floors and the risk of a vandalised ripped hood. If you've got a lockup, make sure your car will fit – a classic Volkswagen camper might be too tall.
3. Price it right
Set a budget and stick to it. There's no point spending more than you really wanted on something exotic that might only get used once a fortnight. Even though you might have your heart set on a VW Bay Bus, sometimes it's the less expensive classics, like an old VW Beetle or Golf Mk1 that will provide the most fun.
4. Do your homework
Join a club so you can chat to fellow owners, visit a specialist and read the relevant buyer's guides to find out everything there is to know about the car you're about to buy. You can then go armed with this information when viewing to avoid landing a lemon.
Ensure you can source and buy the spares parts you need for your vehicle before you part with your money. Companies like VWHeritage provide excellent service and expert advice and supply VW classic parts and Complete Automobilist offer classic parts by mail order or online.
5. Narrow your choices
Be specific, get a very shortlist of cars that interest you. Better still, target a specific make and model so you don't waste time looking at too many different cars which can lead to disillusionment.
6. Buy the best
Repairing a basket case is fun if you can do the work yourself, but it's not always economical. Those who've spent dark nights and dented their bank balances restoring a wreck always recommend buying the best car you can afford to avoid the risk of going bankrupt trying to repair an absolute dog that needs everything doing. Body repairs are usually the most expensive part to do properly.
7. Ask an expert
If you're still not sure you're qualified (or confident) enough to make a wise purchase or there's gaps in your technical knowledge, ask an expert to take a look. A club official might be willing to accompany you when viewing cars for sale – alternatively, pay a specialist.
8. Suck it and see
Always view as many cars as you can. That way you'll be able to make an accurate assessment of good cars and bad cars. Information is power and when you finally spot the right one, you'll be able to make an on the spot decision.
9. Step back
It happens to us all, but try not to let your heart rule your head. It's all too easy to get carried away and buy a car that's either riddled with problems, overpriced or just not right for your needs.
10. Enjoy
Once you've got your mitts on a totally sound classic, be sure to get out there and enjoy it. No point hiding it away in a garage – get to shows, take a continental tour, help out a friend on their wedding day. After all, classics make fabulous wedding cars!
By Ian Cushway